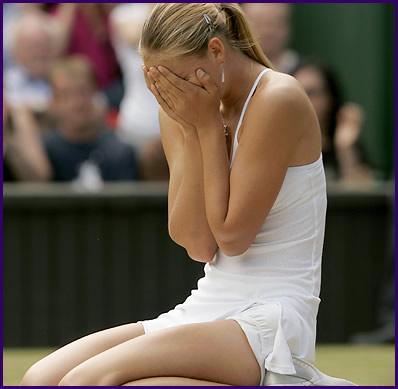 Wonderful. Not only for those who love tennis as me, but also for those who unknown what is a tie break. Russia has a new "exportation" model of what we love in tennis.
Maria Sharapova sunk to her knees and covered her face in seeming disbelief as she won the Wimbledon title today. The 17-year-old Russian had completed a 6-1, 6-4 victory over Serena Williams, who was attempting to complete a hat-trick of Wimbledon successes.
She rushed to hug and kiss her father, Yuri, in the guest box before unsuccessfully trying to phone her mother Yelena in Florida on a mobile in front of a packed crowd who were applauding in delight.
Her family had sacrificed much for their daughter. They moved to America when Sharapova was seven, with Yelena having to stay behind for two years because of visa problems. With Yuri waiting on tables to fund her tennis, Sharapova often had to fend for herself. But she learned English in four months and today showed she was as quick a learner on court, with a composed display against top seed Williams.
Much had been of Sharapova's striking blonde looks, with comparisons drawn between her and compatriot Anna Kournikova . But the new Wimbledon Champion has been at pains to point out that she is the first Maria Sharapova rather than the next Kournikova and that she would "never be a pin-up". She wants to be known for her tennis first and foremost.
And she has displayed over the past two weeks at the All England Club that she has, even at her young age, the tools, temperament and attitude to succeed in the sport.
She might have been fast-tracked into the brightest of spotlights today, but nothing seemed to worry a very focused young lady. The task for her first Grand Slam final was daunting. After all Williams has, at the age of 22, already won six of them.
Serena suffered personal tragedy with the death of her sister Yetunde last September and a sustained a knee problem that limited her to just five tournaments since last year's Wimbledon triumph. But she found her form at these Championships. She bulldozed her way to the semi-finals against Amelie Mauresmo against whom she showed guts and heart to win through.
Yet in the opening set against Sharapova her fighting qualities went missing as she struggled to find the level of performance that she hoped would supply "the most special moment of my career", with the completion of a hat-trick of titles following an emotional 12 months.
Sharapova seemed to play without fear and came out fighting from the start. Williams' forehand was a weakness and Sharapova pounced all over it. The Russian has similar qualities to Williams with her battling spirit and power but it was the fact she remained composed about the opposition she faced that most impressed.
She was clearly not overawed by a player who has intimidated opponents since breaking through to the big-time with her sister Venus. She broke the Williams serve in just the fourth game with blistering returns that sapped the title-holder's confidence.
What must have also shocked the American was the pace and accuracy of Sharapova's second serve – one in the fifth game was timed at 102mph.
Salt was rubbed into Williams' wounds when she was broken again. The Russian fired a 119mph return in one of four break points she had, before clinching the game with a searing double-backhand across the court.
Sharapova showed her first sign of tension as she served out for the set. She double- faulted and hit a couple of forehand errors and presented two break point to Williams. But she regained her focus to take the lead.
Williams came out fighting in the second set and found more rhythm on her serve and even got a point to break Sharapova's opening service game. She then gained her first ray of hope by breaking the Russian for a 4-2 lead. But any notion that Sharapova would crumble was ill-founded.
She immediately broke back and Williams was reeling again as Sharapova returned to the corner and lobbed the champion before forcing Williams down on one knee to plant a forehand volley into the net for a break point.
Then Williams slipped as she ran for a return and Sharapova had broken again for a 5-4 lead. The Russian, taking her time as she had done throughout, was the picture of concentration as she began to serve out for the match.
Even when she went 15-0 down, the teenager was focused and slammed down an ace. Her intention was clear and when she forced Williams to make another forehand error, Sharapova was presented with two match points.
Williams saved the first but dumped another forehand into the net to send Sharapova to her knees as she celebrated a victory that proved a new generation had arrived.