La Mindfulness, contrariamente ad altre metodologie di non sempre certa utilità (ne parlavo ad esempio nel post sulla Ricerca di senso, dalla psicologia al coaching e quant'altro), è una metodologia piuttosto ben formata che non va alla ricerca di senso o di chissà quali significati ma semplicemente aiuta a sperimentare il noto principio del "qui ed ora". Attività cognitiva che fa sempre bene: aiuta a concentrarsi (non a caso si rifà ai temi della consapevolezza e meditazione), a percepire e regolare meglio il proprio stato emotivo e mentale, a distaccarsi dal rimugginio sul passato e a non farsi prendere troppo dalle ansie del futuro. Per saperne di più non resta che cercare, ci sono molti siti che ne parlano. Qui mi piace raccogliere un'immagine che riassume un po' il metodo anche graficamente, comoda da tenere a portata di mano: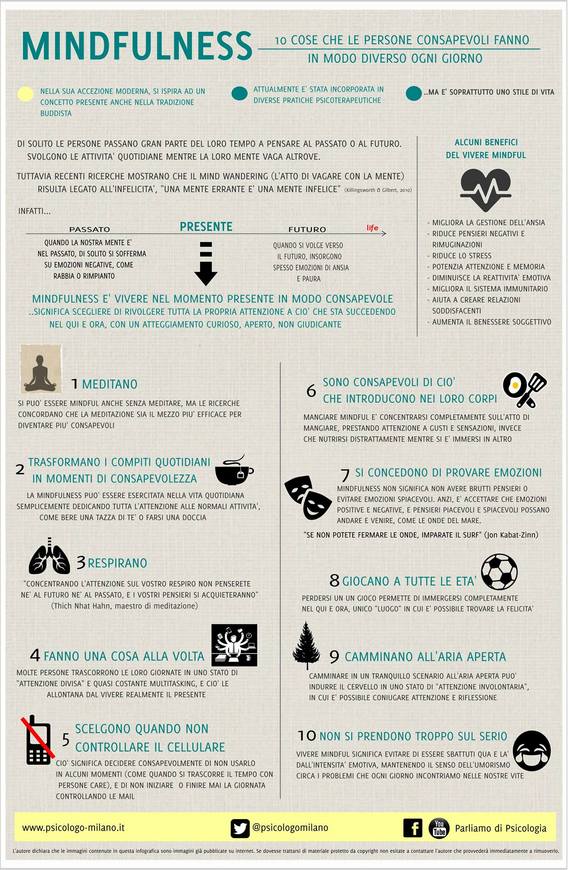 L'immagine è presa dalla Pagina Facebook del bravo psicologo Luca Mazzucchelli (qui il post originale).
Per chi vuole poi c'è sempre la mia paginetta Nosce.org, dove raccolgo spunti e articoli su vari argomenti di psico-qualcosa.
Collegata a questa, c'è anche un piccolo elenco per punti che ho rebloggato recentemente sul mio Tumblr, che penso si adatti bene a questo fine d'anno 2014:
Inspiration for the future
– Hang onto hope
– Believe and be strong
– Smile, and share laughter
– Spread thankfulness
– Live in the moment
– Go after your dreams
– Be grateful for life
– Be all you can be.
P.S. In inglese, c'è anche quest'altra immagine per punti, sempre dedicata alla Mindfulness: