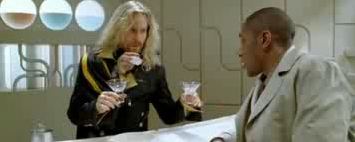 The Hitchhiker's Guide to the Galaxy: il film. Manca ancora un po', ma insomma noi si sta già sbavando (è un po' come Matrix quando uscì reloaded, per chi è appassionato).
E, siii, il trailer promette molto bene. L'alieno lo dice perfettamente:
"Attention People of the Earth. The plans for development of the outlying regions of the Galaxy require the building of a hyperspatial express route through your star system, and we're regret to inform you that your planet is one of those scheduled for demolition. The process will take slightly less that two of your Earth minutes. Thank you. Have a nice day"
Come dite, non avete MAI letto il libro? Non conoscete magari neanche Douglas Adams? Male, molto male…
A proposito, mi devo ricordare di leggere "Addio, e grazie per tutto il pesce", l'ho regalato ad Andrea ma non a me.
La vita, l'Universo e tutto quanto, il terzo volume della saga Guida galattica per gli autostoppisti, si concludeva con il protagonista, Arthur Dent, in possesso del prezioso Messaggio Finale di Dio alle Sue Creature. Ma, avendolo sbadatamente dimenticato, Arthur ricorre a ogni espediente per cercare di ricordarselo: prova con meditazioni, letture della mente, percuotendosi violentemente e ripetutamente il capo. Tutto, però, si rivela inutile: il Messaggio è proprio dimenticato. Addio, e grazie per tutto il pesce, quarto episodio dell'epopea, ci riserva la sorpresa di un'inaspettata ricomparsa. Infatti, dopo otto anni di folle girovagare per lo spazio, Arthur e i suoi compagni tornano sulla Terra, decisi a trovare, oltre al messaggio divino, la risposta a due altri quesiti di primaria importanza: cos'è successo esattamente il giorno in cui è stato demolito il pianeta per lasciare spazio a una circonvallazione iperspaziale? Perché i delfini sono scomparsi con largo anticipo rispetto all'avvenimento?